"Like a mobile and flexible version of the print magazine."
Since 2010, the lifestyle magazine encore! has given us a glimpse of everything beautiful in the world: luxury, dreamlike destinations or impressive architecture. From now on, readers can access and share their favorite articles anywhere and anytime - encore! has a digital edition. We talked to Editor-in-Chief Renata Libal about this:
Hi Ms. Libal. Do you know what I've always been interested in? What's the meaning of the exclamation mark behind encore!
The exclamation mark stands for the excessive, for a touch of excessiveness. Because sometimes "once more" - or encore - is not enough. People like beautiful things, unique experiences and want more and more of them. This is what our exclamation mark illustrates. On a purely graphic level, the symbol is also very elegant and allows various design interpretations that underline the aesthetic aspect of the title. On our new website, for example, you will find the point of the exclamation mark instead of the cursor.
What makes encore! different from all the other lifestyle magazines?
encore! is the most widely distributed lifestyle magazine in Switzerland, as it is included in the biggest Sunday titles in German-speaking Switzerland (SonntagsZeitung) and French-speaking Switzerland (Le Matin Dimanche). This distribution also determines the content: It should not have anything snobbish about it. It should open a window to all that is beautiful and brilliant, inspire and give pleasure to people throughout Switzerland: Through portraits of fascinating personalities, understandable background information on the subject of luxury and lively fashion images.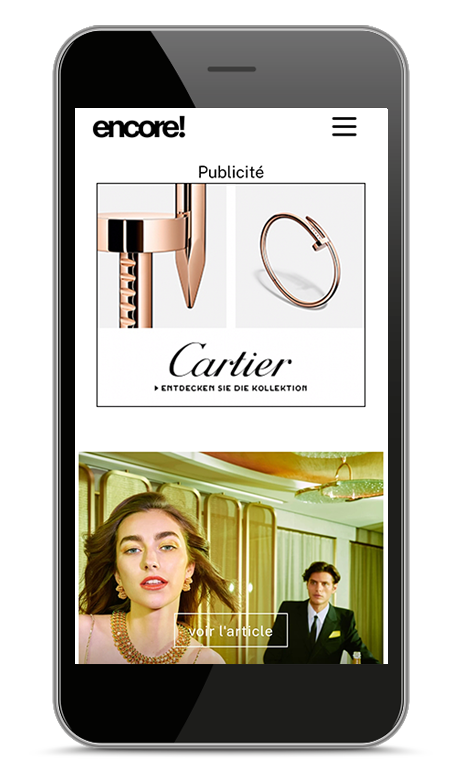 It does that. Since the first issue in 2010, however, it has been published exclusively in print. Why are you now supplementing this with a digital edition? And why only today?
Our website has actually been around for a long time. Until now, however, it has only served as a repository for the e-paper editions. As of today, the print magazine - which will always be unique with its XXL format, high print quality and rustling pages - will be supplemented by a digital version. This is because we believe that our readers should be able to easily find content that is close to their hearts, such as a hotel address or a picture they want to share with friends, and access it at any time. The website is, so to speak, a mobile and flexible version of the print magazine.
And how do advertisers benefit from the digital version?
encore! combines two very important features for many advertisers: wide distribution in two language regions and a high-quality editorial and graphic environment. Many Swiss titles have to choose one or the other; that's different with us. In addition, the range of integrated content created in partnership with advertisers allows a truly tailored approach in dialogue with highly experienced professionals.
So it's an enrichment for all parties involved. Now a personal question: In all your years as Editor-in-Chief, you must have experienced a lot. Tell us about a particularly special experience?
My work in our small editorial team is enormously multifaceted and includes project management as much as writing the articles to attending a product launch event. I love the feeling of knowing every detail and nook and cranny of encore! for 11 years now! The unique experiences are always linked to human encounters - a huge privilege of my work as a journalist. As an example, I would mention the tourist reportage on Bhutan, for which we crossed the country from east to west, in parts even by motorcycle. Or the meeting in Lima with the fabulous Peruvian top chef Gaston Acurio, who gave a whole country new self-confidence, and that only through cuisine! Or a little closer to home: the watchmakers, whose craftsmanship never ceases to amaze us.
And finally, leaving encore! aside, what's your favorite magazine on a rainy Sunday afternoon?
I love thick titles like Wallpaper or Vogue, which you can spend hours immersed in another world. I also like How To Spend it, the lifestyle supplement of the Financial Times, which inspired me a lot when I was working on the concept of encore!
The interview was conducted by Lukas Bolliger: Thank you very much for talking to us.