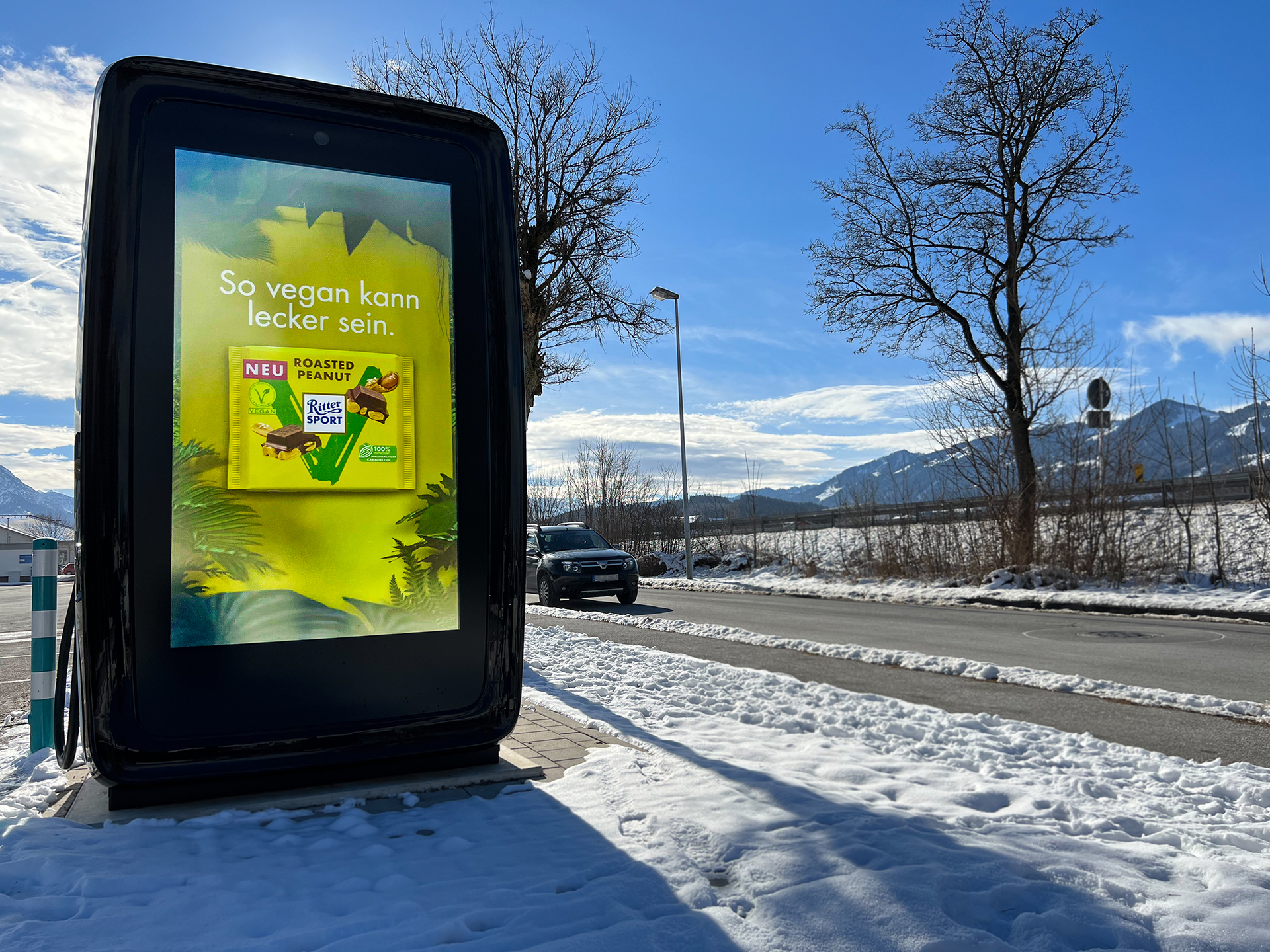 Goldbach implements first campaign with Ritter Sport on e-charging columns from Numbat
Unterföhring, February 07, 2023 - Technology-focused marketer Goldbach is partnering with fast-charging infrastructure provider Numbat, a startup specializing in high-power chargers (HPC) for electric vehicles. Ritter Sport, together with agency planus media GmbH, was the first customer to implement a campaign for its all-vegetable product line on screens at e-charging stations.
The mobility turnaround is in full swing, and the collaboration between the two companies promotes the expansion of the charging infrastructure in Germany. The e-charging pillars are each equipped with two 75-inch LCD screens, are powered by green electricity and are offered by Goldbach to advertising customers within the Mobility Channel. In 2023, up to 600 columns in Germany are to be connected to the e-charging network - currently, the supermarket parking lots of the popular organic retail chain Feneberg are equipped with Numbats. Locations with other partners will follow in the coming months. The fast-charging columns will be strategically positioned so that the screens are visible from all sides and can be addressed equally by passers-by and visitors to the supermarket. In addition to POS locations, the expansion of the network also takes into account other locations that allow the e-car charging process to be conveniently integrated into everyday life.
Claudia Zayer, Managing Director of Goldbach DOOH GmbH, comments: "Advertising at the POS combined with the attractive target group of e-car drivers convinced us. We are thus expanding our portfolio with an innovative and currently unique advertising medium around the POS in Germany. I am very pleased with the consistently positive feedback from the market and am sure that we are creating an attractive offer for our customers with the e-charging columns."
"As a combination of fast charging station and battery storage and the resulting benefits for companies, the innovative and sustainable technology Numbat is exciting for a wide variety of POS locations. There, with our screens and Goldbach as an established marketer in the DOOH sector, we are creating a completely new product category in Germany. We are looking forward to the cooperation and are convinced of the resulting synergy effect," adds Martin Schall, Co-Founder / Managing Director of Numbat.
"The topic of sustainability is firmly anchored in Ritter Sport's DNA. Since the expansion of an e-charging infrastructure is important for the mobility turnaround in Germany, and the Numbat e-charging columns also offer an attractive & flexible advertising opportunity, we are happy to support the establishment of the e-charging infrastructure.We are happy to support the development phase by extending our current DOOH Vegan campaign to this touchpoint," adds Michaela Holzäpfel, Head of Marketing Germany at Ritter Sport.
Contact:
Goldbach Germany GmbH
Public Relations: Schoesslers GmbH
Contact: Jörg Pensberg
www.goldbach.com
About Goldbach Germany GmbH
As a technology-driven marketer, Goldbach Germany plays out advertising messages intelligently and scalably on all video-based platforms, offering a diverse moving image product portfolio ranging from digital out of home, online video and advanced TV to a versatile linear TV offering. Contacts, addressability, technical solutions and automation are the focus to show consumers the right message at the right time on the right screen. Goldbach Germany GmbH is a subsidiary of Goldbach Group AG based in Küsnacht, Switzerland. Goldbach Group AG operates mainly in Switzerland, Austria and Germany and is a TX Group company.