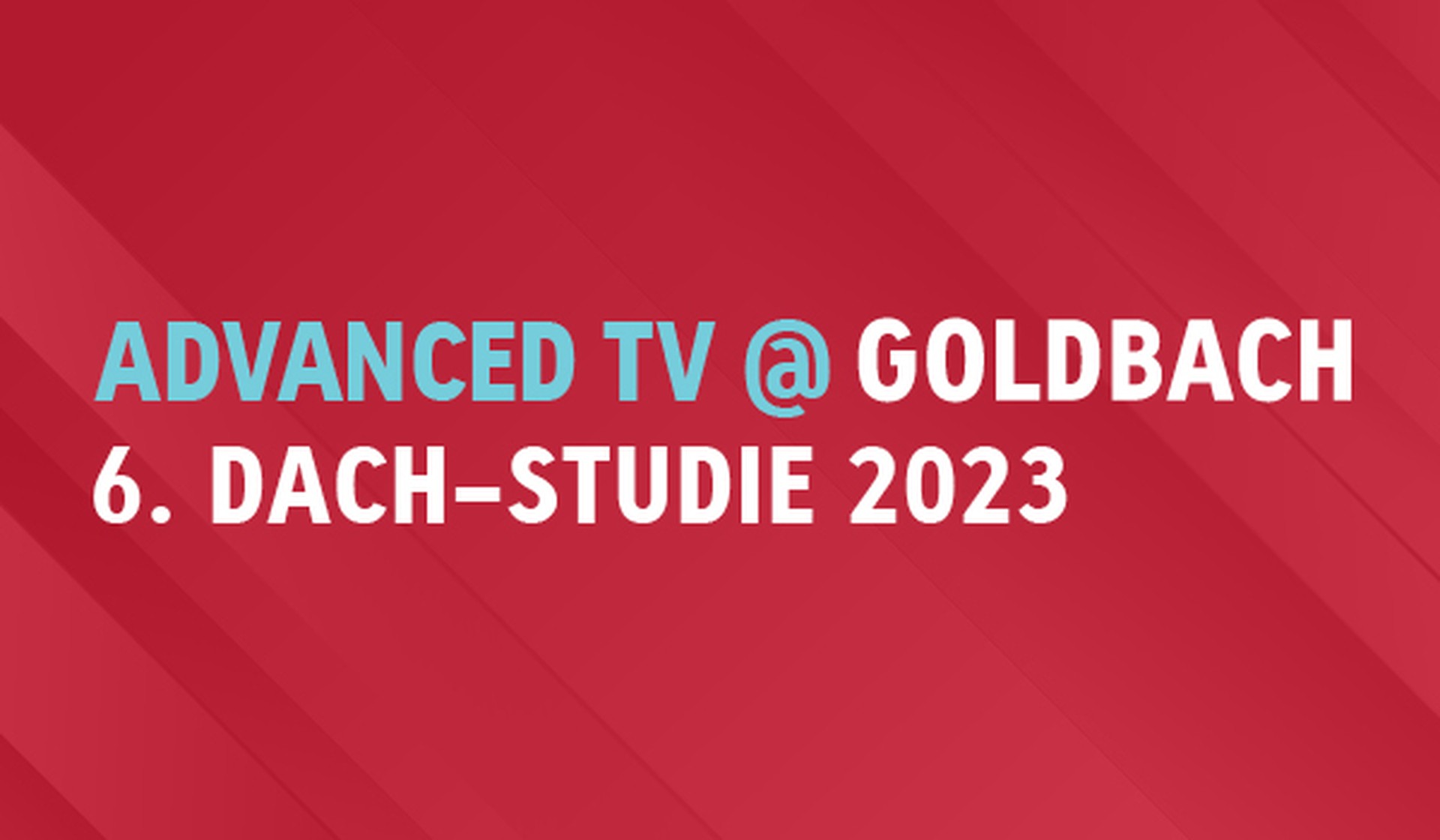 6th Goldbach Advanced TV DACH Study 2023 - Connected TV is being used more and more intensively
For the sixth time, Goldbach conducted its annual DACH study on the use and spread of Connected TV. The analysis showed that Connected TV continues to enjoy a very high level of awareness in all advertising-relevant target groups and the additional functions are used by two-thirds of respondents. Advertising awareness on the medium is also very high.
Unterföhring, March 28, 2023 - The evaluation of Goldbach's sixth DACH-wide Advanced TV Study confirms the trend of recent years: Connected TV (CTV) enjoys great popularity among all advertising-relevant target groups. 79% of respondents said they were familiar with CTV, 61% use its additional functions such as streaming apps, TV station apps, gaming apps, etc. It is striking that the intensity of use has increased compared to previous years. More than half use CTV's additional functions on a weekly basis (+12%), and a good quarter even use them daily (+4%). It is also noticeable that households with children in particular are among the strongest user groups - in Germany, Austria and Switzerland.
However, the length of stay has not changed much. At just under 2:21 hours, the time spent using the additional functions on CTV is slightly less than the time spent using linear TV (2:47 hours). Only respondents in the 16-29 age group reported spending more time with CTV content (2:36 hours) than with linear TV content (2:07 hours). The highest usage time for the additional functions is in Germany with 2:36 hours. With 2.2 people, on average the same number of people are in front of the TV set at the same time as in the previous year.
Connected thanks to smart TV set
As in previous years, most of the respondents (79%) use CTV's additional functions via a smart TV set, followed by game consoles (31%). Samsung is the clear market leader among smart TV providers, Sony Playstation among game consoles. The trend reversal from last year regarding the start screen of the Connected TV is also confirmed: almost half of all respondents start TV use on the provider's user interface. Also striking: over 60% of respondents link their smartphone or other mobile device to the TV set. Among 16-49 year olds, the figure is even higher at 72%.
Advertising perception and acceptance slightly higher
When asked if they noticed advertising around CTV's additional functions, 46% of respondents answered yes this year. This is 3% more than in the previous year. Exactly half also said they found advertising in this environment perfectly fine. And just over a quarter would accept advertising on paid apps if the content for them was free. Currently, most of those surveyed spend between 20 and 29 euros a month on apps.
Mario Neumann, Unit Director Advanced TV at Goldbach Germany, on the study: "This year's results of the DACH study also show that Connected TV is taking a relevant share of media usage. As a result, the media genre is becoming increasingly important for advertisers, as they can address a user group here that can hardly or no longer be reached via traditional TV. The slight increase in advertising awareness is particularly pleasing - this underlines once again that Connected TV should be considered in every media mix."
All results of the study can be found on goldbach.com/de/en/advanced-tv-study.
To the study:
Goldbach has been conducting the Advanced TV study since 2018. This year, 3500 people (1500 from Germany, 1000 each from Austria and Switzerland) aged 16-69 across the DACH region took part in the study. Online, they were asked about the topics "Awareness, type and use of Connected TV," "Ownership of Internet-enabled TVs," "App use on Internet-enabled TVs" and "Perception and assessment of advertising in the area of additional functions on Connected TV." The survey period was January 2023.
Contact:
Goldbach Germany GmbH
Public Relations: schoesslers GmbH
Contact: Jörg Pensberg
www.goldbach.com
About Goldbach Germany GmbH
As a technology-driven marketer, Goldbach Germany plays out advertising messages intelligently and scalably on all video-based platforms, offering a diverse moving image product portfolio ranging from digital out of home, online video and advanced TV to a versatile linear TV offering. Contacts, addressability, technical solutions and automation are the focus to show consumers the right message at the right time on the right screen. Goldbach Germany GmbH is a subsidiary of Goldbach Group AG based in Küsnacht, Switzerland. Goldbach Group AG operates mainly in Switzerland, Austria and Germany and is a TX Group company.
www.goldbach.com