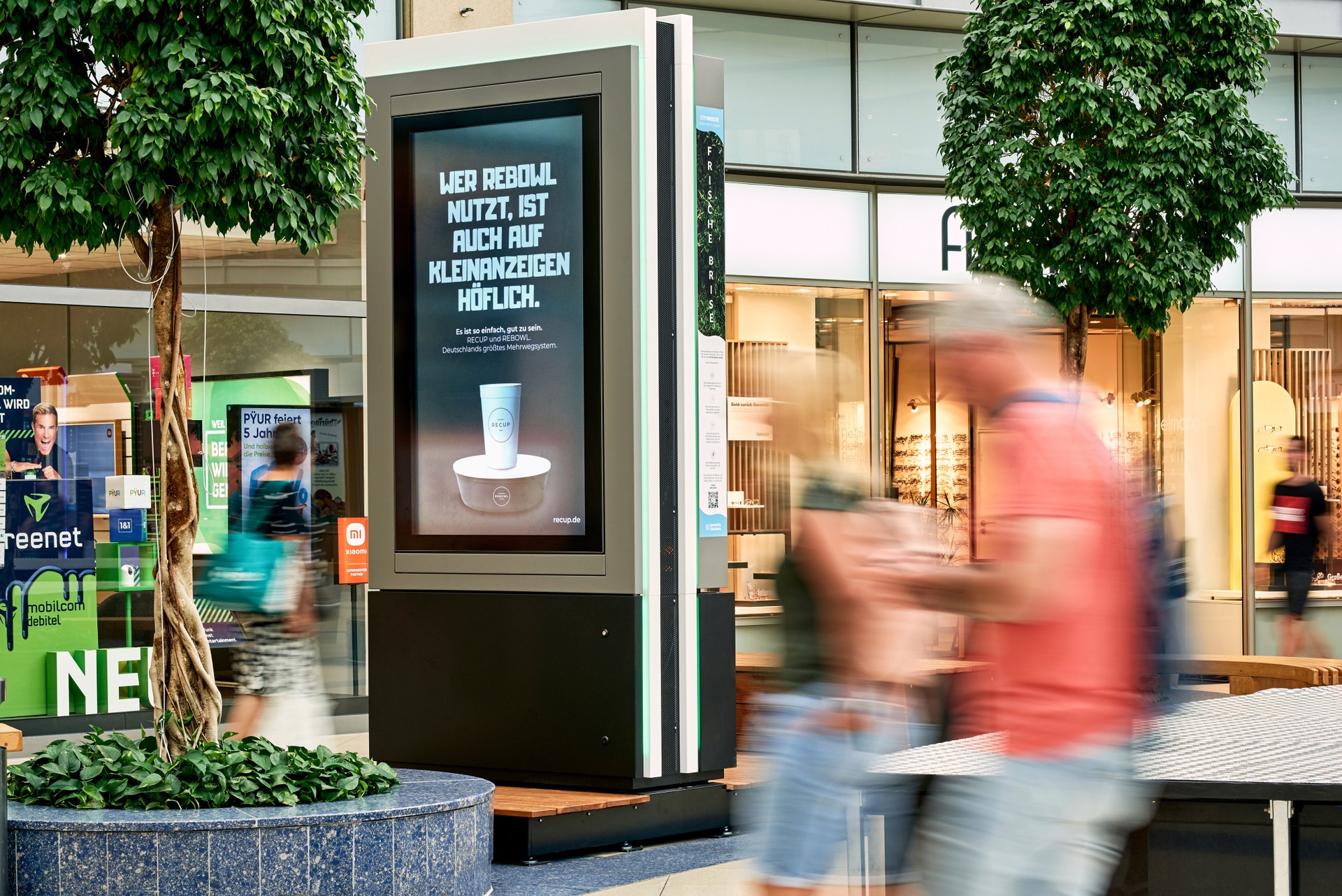 Goldbach markets CityBreeze: Kick-off with RECUP campaign
Unterföhring, August 11, 2022. Sustainable advertising is now coming to Leipzig: Goldbach is now marketing four LED screens from Green City Solutions in Leipzig's Allee-Center. The CityBreeze steles are integrated in the mall channel of the Goldbach portfolio and can be booked programmatically.
The special feature: The DOOH screens have an integrated real moss filter. The moss of the CityBreeze steles filters smallest particles such as fine dust, viruses, bacteria, but also odors and gases from the air and enriches it with oxygen. In addition, the evaporative power of the moss cools the air by several degrees. This creates real fresh air oases with forest fragrance around the digital info points. Thanks to cleaning, cooling and operation with green electricity, CityBreeze is the digital advertising medium with the smallest CO2 footprint.
A branding campaign of RECUP, Germany's largest gastronomy reusable system, placed by the agencies Weischer.JvB GmbH and DunkelGrün GmbH, has been running on the stelae in Leipzig since July 27, 2022. The RECUP reusable cups and REBOWL reusable bowls replace disposable cups and bowls. With RECUP and REBOWL, the company offers a Germany-wide reusable system for drinks-to-go and take-away food.
Claudia Zayer, Unit Director DOOH at Goldbach, says about the start of the cooperation: "RECUP is the perfect first fit for the start of marketing and optimally suited for advertising with sustainability aspects. The innovative design also makes the steles a real reason to look and stop."
Alexander Burger, Head of Marketing at reCup GmbH, adds: "Making cities greener - we share this mission with Green City Solutions. For us, therefore, this is a wonderful opportunity to draw attention to reusable with added value. The CityBreeze filters free from fine dust, our RECUP reusable system frees from single-use waste."
Peter Sänger, CEO and co-founder of Green City Solutions explains, "The CityBreeze makes digital outdoor advertising more climate-friendly and sustainability tangible. The mosses are regenerative, they metabolize pollutants and leave no waste behind. Therefore, an advertising customer like RECUP, which also focuses on sustainable circular economy, is simply ideal thematically."
Contact:
Goldbach Germany GmbH
Public Relations: schoesslers GmbH
Contact: Jörg Pensberg
www.goldbach.com
About Goldbach Germany
As a technology-driven marketer, Goldbach Germany plays out advertising messages intelligently and scalably on all video-based platforms, offering a diverse moving image product portfolio ranging from digital out of home, online video and advanced TV to a versatile linear TV offering. Contacts, addressability, technical solutions and automation are the focus to show consumers the right message at the right time on the right screen. Goldbach Germany GmbH is a subsidiary of Goldbach Group AG based in Küsnacht, Switzerland. Goldbach Group AG operates mainly in Switzerland, Austria and Germany and is a TX Group company.
About Green City Solutions
Green City Solutions, a company based in Berlin-Brandenburg, helps people in polluted places to breathe cleaner and cooler air, thus improving their health and quality of life. The biotech filters developed for this purpose offer various application options for making ideal use of urban space. The starting point is the combination of nature with digital technology: The natural ability of living mosses to filter fine dust and cool the ambient air is used. The interaction of sensors, intelligent ventilation, irrigation and software enhances the natural purification capacity of moss and makes it usable and measurable.
About RECUP
Founded in 2016 by Fabian Eckert and Florian Pachaly, reCup GmbH offers a simple, attractive and sustainable alternative to disposable packaging with its Germany-wide reusable deposit system RECUP/REBOWL. The "RECUP" to-go cups and "REBOWL" take-away bowls are available in a wide range of sizes and are 100% recyclable. The product range has been awarded the "Blue Angel" seal by the German government. The reusable cups and bowls can be borrowed and returned for a deposit at more than 12,000 distribution and return points throughout Germany (cafés, restaurants, bakeries, kiosks, company catering outlets and service stations). In addition, test phases are already underway with providers in the food delivery sector. The company's goal is to make disposable packaging superfluous and to further raise awareness in society about the issue of packaging waste. More at: www.recup.de