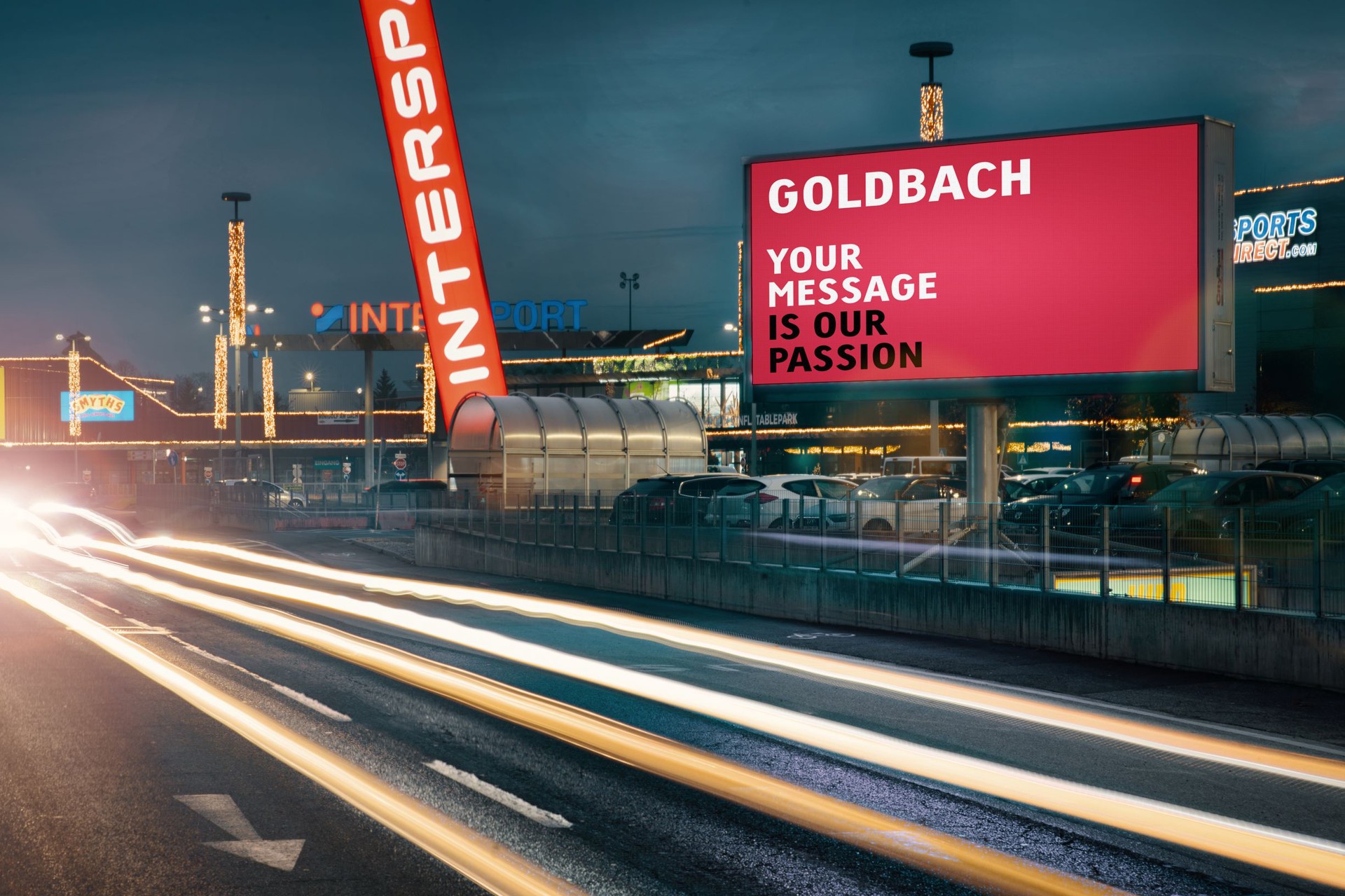 Roadside: Goldbach expands digital out of home offering
Part of this offer are attention-grabbing screens along highly frequented roads but also at shopping parks and shopping centers. In total, 61.9 million gross contacts can be reached in 2 weeks throughout Austria via the Roadside Channel.**
Goldbach's comprehensive DOOH offering with over 40 partners is bundled into individual thematic networks, so-called channels, so that advertisers can address target groups across networks from a single source. One of these is the Austria-wide Roadside Channel. A new segmentation into subchannels now allows even more targeted campaigns.
"Why Roadside in particular? And why now? Especially in Corona times, colorful, lively advertising on high-quality screens is accepted even more joyfully and consciously, conjures color into the gray everyday life and, last but not least, awakens the joy of a shopping experience. From our discussions with the automotive industry, we also learn that significant growth is being recorded here, as people currently want to be more independent and autonomously mobile again, without having to rely on busy public transport and stuffy subways. These two factors play into our focus on the roadside channel, which scores points for screen diversity, urbanity, proximity to the city center and, of course, high reach," says Sales Director Ralf Schalkhammer, summarizing the reasons for currently focusing primarily on this channel.
This development is also confirmed by a study presented by Cap Gemini in February. "87 percent of consumers worldwide prefer to use a private vehicle to travel safely," the consultancy announced after surveying 11,000 consumers. At the start of the pandemic, that figure was only 57 percent, it said. Globally, 78 percent of respondents prefer their own vehicle to public transportation, according to the report. The proportion of respondents who plan to buy their own car in the next 12 months has risen from 35 percent to 46 percent since April 2020. ***
To meet the growing demand for this advertising environment, the Roadside Channel's large screens have now been segmented into additional subchannels backed by market research data. With "Roadside Shopping" at 44 locations throughout Austria and 17.4 million gross contacts, the shopping mood is promoted, while "Roadside Urban" at 46 locations and with 43.8 million gross contacts offers large-format advertising. Roadside Big Screen" comprises 12.9 million gross contacts at 40 locations and offers advertising on the largest video walls with an average of 16.7 m². The Vienna special "Roadside Plus" includes particularly prominent moving image spaces with 17 million gross contacts at highly frequented Viennese streets, with locations such as Kärntnerstraße or Mariahilfer Straße. Special advertising formats are possible with "Roadside Special" in Vienna, for example on Cafe Landtmann, Altmannsdorfer Strasse or Wienzeile.
Programmatic innovation driver
The technological possibilities in the area of digital outdoor advertising are also being successively expanded at Goldbach. After the first programmatic campaign was already placed by Goldbach in 2016, the relaunch of the programmatic network in cooperation with ÖBB Werbung followed in 2020 after ongoing technical optimizations, as well as a cooperation with the DSP from ADITION, which also expands programmatic booking options on the agency side. Other partners, including Digilight, will be successively integrated into the programmatic DOOH network. Interest in targeted delivery of DOOH campaigns tailored to different contextual elements is growing visibly.
Topic leadership in the digital
out of Home
As the longest-standing and widest-reach* DOOH marketer, Goldbach is top dog in the growing media genre of digital out of home. "We are proud to rightly call ourselves innovation leaders in DOOH. From the introduction of programmatic solutions, to targeting opportunities, we have been and continue to be pioneers in this area and therefore see it as our responsibility as a topic leader to also contribute to the industry's knowledge in this media genre. We have already been doing this for years through our events, speaking activities, webinars, round tables, etc. ....," says Goldbach CEO Josef Almer, explaining the company's positioning.
*AmbientMeter Study 2019: Advertisers reach 62.1% of all Austrians aged 14-69, making the Goldbach DOOH network the widest-reach total digital outdoor advertising network in Austria.
** Frequency/publisher, weighting/TMC (The Media Consultants), 2021; 2 weeks, high rotation
*** https://www.capgemini.com/de-de/news/der-trend-zur-individuellen-mobilitaet-setzt-sich-fort/