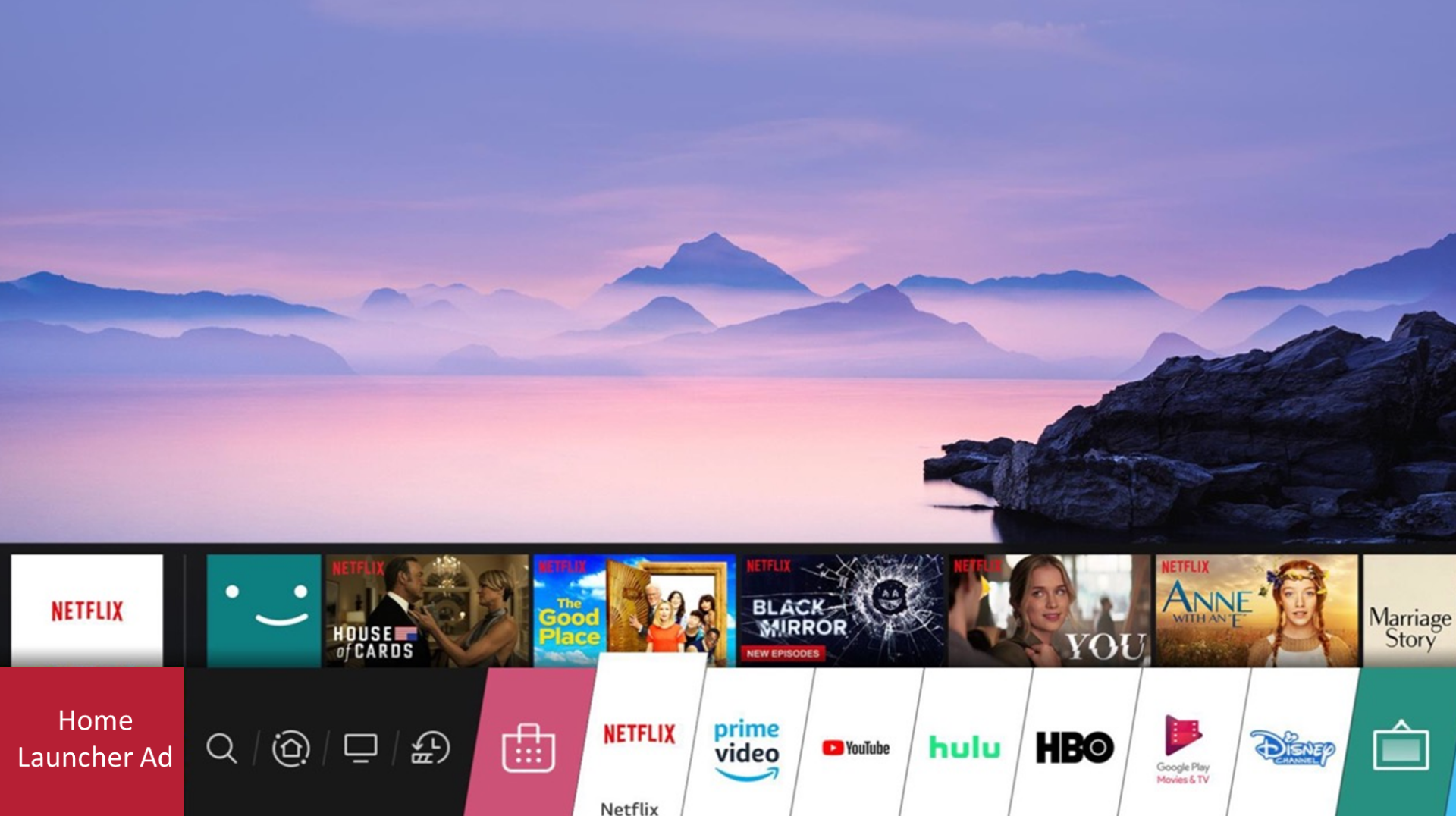 Goldbach markets LG Ads in the DACH region
Goldbach markets Connected TV Ads on LG Smart TVs in Switzerland, Germany and Austria.
Extensive targeting options open up new target groups.
Küsnacht, April 28, 2022 - Goldbach and LG Ads Solutions, the TV media platform of smart TV manufacturer LG, are collaborating with immediate effect in the area of Connected TV Ads. Goldbach thus becomes the exclusive sales partner of LG Ads Solutions in Switzerland, Germany, and Austria, extending its successful partnership with LG since 2020.
The advertising spaces can be booked in the form of an "Ad Package", consisting of the formats "Home Launcher Banner", "Hero Display Ads" and "Content Store Ads". These are played out on the user interface of the LG Smart TVs. As the 5th Goldbach Advanced TV Study (2022) shows, just over half of viewers already use the user interface of their smart TV as their "home screen.
Brands benefit in this way from a monthly gross media reach of over 54 million impressions. In addition, Connected TV Ads make it possible to reach target groups that were previously difficult to reach with TV advertising, such as heavy streamers or so-called cord cutters**.
Extensive targeting options and interactivity
Extensive targeting options are available for precise campaign control. Target groups can be formed according to socio-demographic criteria (such as gender,
age, etc.). It is also possible to address viewers with relevant content according to contextual criteria, such as sports, music or family.
Another special feature is the interactivity of the advertising spaces, which enables links to other content. Viewers can thus interact with additional content, such as a video, a website within LG WebOS or their own app, without a media break.
Alex Beerli, Director Partner & Product Management at Goldbach Audience, comments on the collaboration: "The ever-increasing penetration of smart TVs is having a profound impact on user behavior. In order to do justice to this, Goldbach is steadily expanding its offering in the smart TV sector as well. In this way, we reach users where they spend more and more time - on the user interface of smart TV devices. They are rapidly becoming a technology platform for digital advertising that can no longer be ignored. We are very pleased to be able to offer our customers interactive and innovative advertising services on smart TVs from LG, one of the big players in the market."
Raghu Kodige, Founder and CEO of LG Ads Solutions, added: " We are very excited to partner with Goldbach to provide marketers with unique access to our premium advertising inventory for LG Smart TV. Advertisers today need to ensure that their ad spend is effective and efficient in this fast-paced ecosystem. Together, we provide solutions that really work, that's our mission."
** Cord cutters are users* who cancel their cable TV connection and use moving images in the form of VoD offerings and live TV streams only via the Internet.