"Let's celebrate together!"
Anyone who values beautiful interior and exterior decoration knows DEPOT. The store for home accessories and small furniture celebrates its 25th birthday in 2022 and is present with a powerful anniversary campaign on various communication channels in Switzerland.
Crossfactory was commissioned to play out the campaign. The Goldbach unit has been supporting DEPOT in media planning for several months and, following an initial small mobile campaign, has already successfully implemented a cross-media branding campaign for the 2021 Christmas season.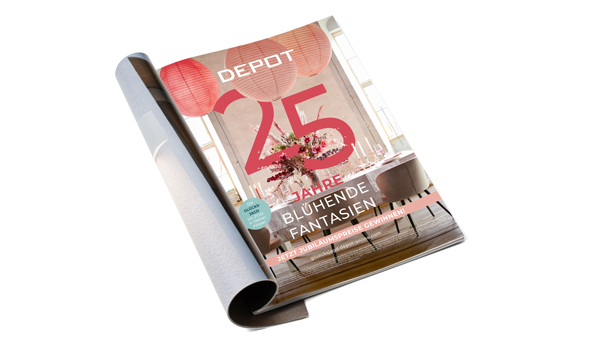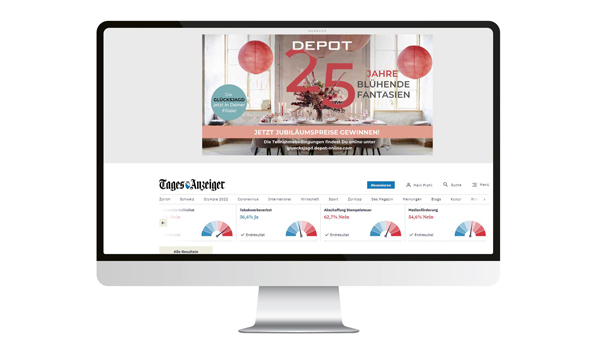 Today, Crossfactory supports its customer in practically the entire media planning and thus contributes to strengthening the brand. A proven collaboration, then, in line with the current campaign claim "Let's celebrate together!". We talked to Michèle Staub, Marketing Manager at DEPOT CH AG, on the client side.
Ms. Staub, first of all, congratulations on 25 years of DEPOT and on the great implementation of the anniversary campaign! For your message, you coordinated various communication channels and advertising media such as OOH, print and online. What did this strategy achieve and what was the biggest challenge in the process?
Our goal was to make a big advertising impact in the first quarter with the launch of the 25th anniversary. We succeeded in this through the diversity of the media used. With the implementation on the various communication channels, we wanted to communicate in a way that was appropriate for the target group. Due to the difficult situation with Corona, our customers were to be reached outdoors and indoors.
Crossfactory has been working with Depot for several months now, and before this anniversary campaign, we had already implemented the fall and Christmas campaigns for you. How did this collaboration come about in the first place?
DEPOT doesn't work with a media agency and in-house resources are limited. When we needed a strong, quick media push in the fall, we didn't have the time to contact every single advertiser. Crossfactory was exactly what we needed and will continue to need in the future: a central and networked contact who has an overview of all the media genres we need.
How does Crossfactory support you in your daily marketing business and what does your collaboration look like in concrete terms?
Even with a smaller budget, it's a lot of fun to work with Crossfactory to put together the right media types and advertising media for the campaign in question. We are free to test various formats and, together with Crossfactory, learn from them for further campaigns. In the meantime, Crossfactory has established itself as our strong partner. In planning for smaller or regional campaigns, as well as throughout German and French-speaking Switzerland, Crossfactory supports us with its broad range of services.
In your opinion, is there anything that sets Crossfactory apart from other providers or why did you choose this team?
For us, Crossfactory is not a classic media agency, but a networked partner that can competently offer everything from a single source.
Finally, and with a little tongue in cheek, would you therefore recommend Crossfactory to your girlfriend?
Definitely :)
Thank you very much for the interview and here's to another 25 years, at least!
Sounds interesting?
Do you want to learn more about cross-media advertising or our Crossfactory services? The Crossfactory team looks forward to hearing from you.
Dama Halter
Head of Media Planning
Goldbach Manufaktur AG - Küsnacht
Kerim Kecelioglu
Key Account Manager
Goldbach Manufaktur AG - Küsnacht