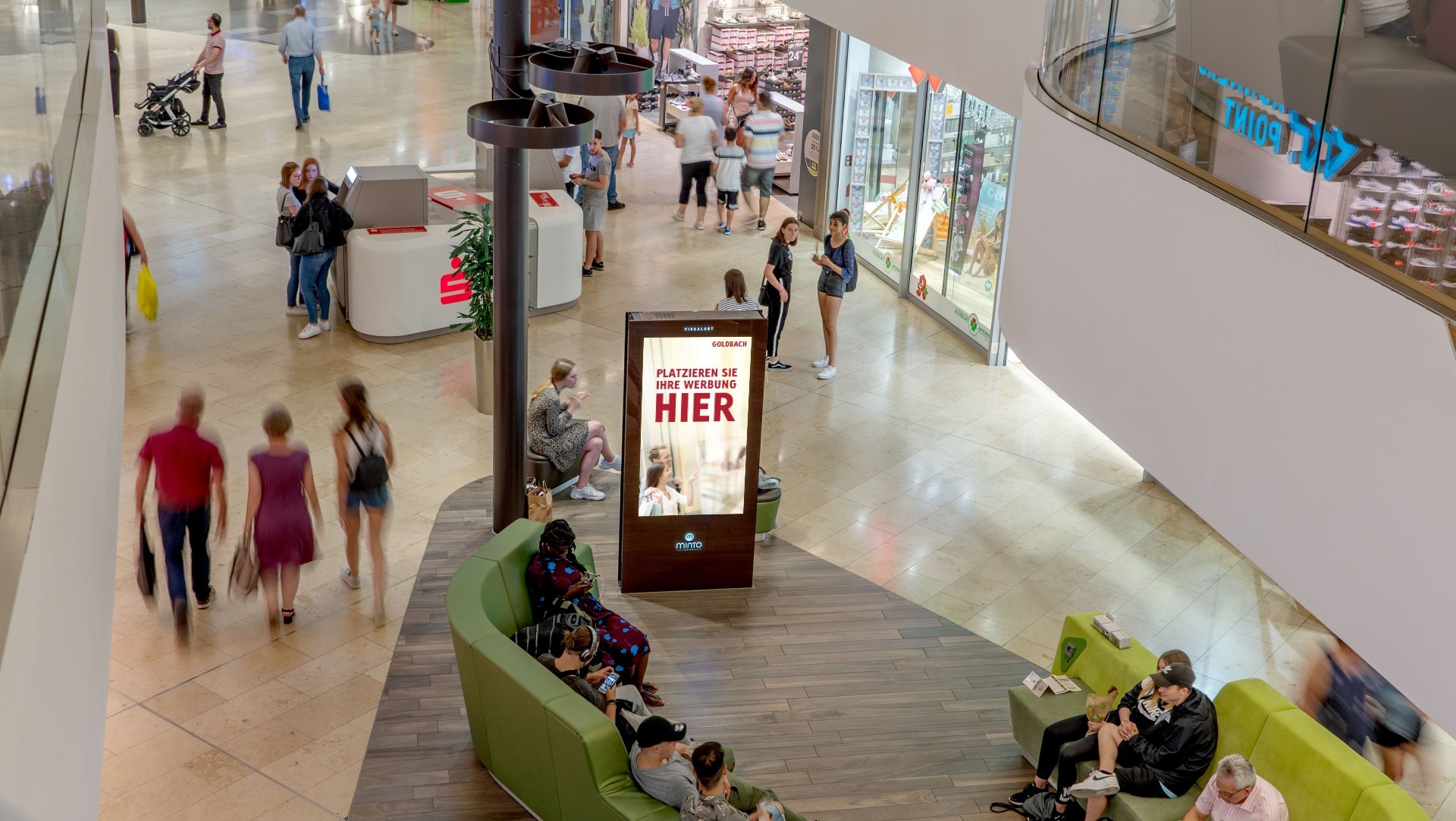 IDOOH: "We're still the new kids at the party"
After a good year and a half, the top management of the digital out-of-home association IDOOH is taking stock, and it's something to be proud of: enormous reach, interested advertising customers, experienced new members. In an interview with HORIZONT, Managing Director Frank Goldberg, Frank Möbius (Goldbach), Andreas Prasse (WallDecaux) and Alexander Stotz (Ströer) describe where there is still need for action.
Gentlemen, in February you celebrated the first birthday of

IDOOH

. What is your assessment? Is association work as boring as everyone keeps saying?
Frank Goldberg: Through my work for the Digital Media Institute, I know very well how tedious and exhausting this work can be. So I'm all the more pleased to see how extremely constructively we've been working in IDOOH since it was founded at the beginning of 2022. We have just published the first overarching study for digital out-of-home, which will soon be available in all planning tools. To have achieved this in such a short time makes me proud.
Frank Möbius: The founding of IDOOH was groundbreaking, because we are all pursuing the same interests: We want to strengthen our genre and bring it forward. The figures we published in February show that this is already working: DOOH reaches over 1.1 billion gross contacts in the population aged 14 and older, which equates to a net reach of 81 percent! Figures like these are no longer a matter of course in this day and age, as you know.
What feedback did you get on your first reach study?
Goldberg: The agencies don't have that much work experience with the study yet; we're just introducing it in several roadshows. However, it is not a complete reinvention, but is based on the same methodology of DMI's P&PS and Ströer's public video study.
Möbius: Basically, the initial feedback has been very positive, because we enable cross-marketer planning and bring more transparency and comparability to the market. We are also primarily concerned with communicating the role of DOOH as a coverage guarantor.
Alexander Stotz: And that's working pretty well at the moment. DOOH is bucking the trend and is currently growing at a double-digit rate, while other media are struggling.

Your study will only gain realpower when it is published by a JIC (Joint Industry Committee). How far along are the talks with Agma?
Goldberg: There is a lot of interest on both sides in working together. DOOH should be established as a media genre in Agma as soon as possible. Until that happens, we will exchange information regularly on the status of methodological development. By the fall, for example, we want to be ready to report much finer, more granular values in the study.
Is booking behavior on the part of customers already so granular that only a single screen is really used? Or, in practice, isn't it primarily about the large reach?
Stotz: The picture is very different here. The real-time possibilities of our medium are definitely being used more and more, even for completely new occasions such as ESG brand communication. In 2021, Miele used our screens on the way to the stadium for three hours during the European Championship match against Hungary, drawing attention to Hungary's anti-LGBTQ stance and the ban on illuminating the Allianz Arena in rainbow colors. So advertisers no longer think only in terms of classic product campaigns, but can target daily political issues in real time to show their stance.
Andreas Prasse: Ultimately, it's about bringing together the best of both worlds - OOH and online. We can do reach, but now we're adding the targeting options that are increasingly in demand. This development played right into our hands during the pandemic, because we no longer have the long lead times of the past. This simplification is also making itself felt internationally: We used to have complex booking systems that were different in 16 countries. Now, with VIOOH as an international, open SSP, there is only one platform.

What else is needed now to help the genre grow?
Prasse
: We need to communicate all these benefits and new opportunities that we know about as marketers much more strongly. It needs proof of impact and cases like the one Alexander just described. An association like
IDOOH
helps immensely here. We are still the new kids at the party! We need to reintroduce ourselves and explain the possibilities of DOOH. We can extend any campaign, whether TV, online, radio or print, to the street. We can compensate, if not overcompensate, for the structural weaknesses of other media in any media mix. At the end of the day, every mix campaign would have to take DOOH into account - that has to be our goal.
Stotz
: Thanks to the immense investments made in recent years, DOOH has long since gone from being a supplementary to a classic mass medium, simply because of the number of screens and their reach. Then there's the issue of sustainability, where good old outdoor advertising can suddenly really score in the digital world, because DOOH is by far the most CO₂-efficient medium. Saving CO₂ is a task for society as a whole, and it doesn't stop at the classic media mix. In the future, we will see more and more budget shifts in favor of more efficient media.
Möbius
: The many new, "green" spaces are already bringing us noticeably new customers who have not yet booked digital outdoor advertising. Steles with integrated moss filters that improve air quality or screens on charging stations for e-mobility are well received by customers. It's clear that sustainability now plays a major role for advertisers. But the same applies to this topic: education and communication are more important than ever.
Stotz
: In addition to the individual highlights, however, the main focus is on the fundamental changes brought about by digitization: screens that are powered 100 percent by green electricity. Messages that can be replaced almost as often as you like, whereas in the past, new posters had to be printed and pasted over and over again. Things like that. Digitization has simply brought us a huge step forward in terms of sustainability.

Nevertheless, outdoor advertising is often under pressure to justify itself: too bright, too much, too visible. What arguments help?
Stotz: In all the discussions we are currently having on the subject, it quickly becomes clear what our medium can do today. In addition to advertising, we make a contribution to barrier-free communication that should not be underestimated in today's society, that reaches everyone and doesn't get lost in some bubble. For local authorities, we are now what the official gazette or the local daily newspaper used to be. These arguments are also being heard by politicians. It's no longer just about advertising. Our media are now systemically relevant due to digitization. At the beginning of the Corona pandemic, for example, many crisis teams were connected to our screen networks. Today, authorities access our screens directly with the aim of informing, educating or warning.
Prasse: We are deliberately engaging in social discussion here. Our task is to communicate specifically the added value of DOOH. Because per se, we are of course a target at the beginning of every debate, as we also noticed with the energy-saving ordinance. Why? Because we are the most visible medium and reach everyone. Not bad, really, is it? But we have to create transparency and take our arguments to the public. As I said in a recent interview with you: If you were to plan according to purely sustainable aspects, you would have to give DOOH a share of over 50 percent in the media plan.
Stotz: It's also interesting that the various "advertising-free" initiatives themselves use OOH to generate attention. In Hamburg, for example, posters were wildly displayed to draw attention to the initiative that wants to abolish billboards. It's absurd, isn't it?
Prasse: If there had been an order, you would certainly have accepted it, wouldn't you, Alex? (laughs)
Stotz: Of course. Probably undiscounted. (laughs)
Let's turn to the other side of the industry: Do agencies and advertisers already know about all the possibilities that Programmatic DOOH in particular offers?
Goldberg
: The OOH specialist agencies started investing massively in the topic and building up expertise years ago. Now they are being joined by all the digital agencies that have been mastering the subject of programmatic for years anyway. However, not everyone has yet understood how the two together, i.e. programmatic DOOH, works in detail. We still have some explaining to do here - that's what
IDOOH
is for.
Möbius
: We're definitely seeing a trend toward more understanding here. The driver is the automation of the business. Agencies and customers are definitely moving in the right direction and are also using the medium on a broad basis for individual messages. More than half of our campaigns are already programmatic.
Prasse
: But we still have the remaining 50 percent to go. In our workshops, we often still experience great amazement at what is really already possible with DOOH. That's why education is so important, both on the customer side and among media, digital and creative agencies. The market is differentiating, but at the same time we're tapping into completely new revenue streams that simply weren't there before, when we relied exclusively on our specialist agencies. There is huge growth potential ahead of us. If we want to reach the famous 10 percent, now is the right time.
Möbius
: That's right. The campaigns are increasingly being handled programmatically, but there are still people behind them who are discussing and explaining different needs. These different demands have to be matched by us as marketers. Technology can be a good tool, but of course it is only used properly if there are people behind it who understand it.
Do you see a danger that DOOH could have a quality problem in the programmatic ecosystem?
Goldberg
: No, because unlike online media, we don't have a longtail. Our advertising space is limited by the space available with limited numbers. That means building an advertising medium like that is really expensive. It's only worth it if it also generates a minimum amount of revenue, and that in turn requires a corresponding frequency. So our inventory quantity cannot be increased at will. In outdoor advertising, we will always have a healthy mix of large and small providers, the niche alongside the mass, but we will never have to deal with such an unmanageable ecosystem as in the online world. At the same time, pure digital players like One Tech Group, Hivestack, software providers like Grassfish and MGGM are already sitting on our working groups and expert committees. The more the topic grows, the more we get.
Stotz
: That exactly shows the strength of
IDOOH
. In its structure, all providers can get involved.
Will this also
apply to the
Fachverband Aussenwerbung (FAW) at some point?
Goldberg
: We have been working closely with the FAW since we were founded. The separation that is often seen does not come from the fact that we pursue different interests, but that DOOH needs focused attention. We see ourselves as part of a common OOH industry and want to speak with one voice.
Stotz
: With the founding of
IDOOH
, we had the chance to outsource the topic of DOOH for the time being and develop it further as a kind of speedboat. There are no two worlds. But our genre is undergoing a transformation process in which FAW will also have a more supporting role in
IDOOH
in the future.
When we talk again in a year's time, where will DOOH be then?

Möbius: We will definitely see more implementations of programmatic campaigns that show the overarching possibilities of our medium.
Prasse: We will find that DOOH is one of the winners in a shrinking market. There will also be a broader consensus about the sustainability and value of our genre.
Goldberg: I see it all the same way. We're not going to stop saying that DOOH is a good medium in every way that we can use to build bridges and provide social cohesion. Programmatic advertising will continue to grow and easily reach a share of 50 to 60 percent of the overall market. In any case, I'm already looking forward to our conversation.