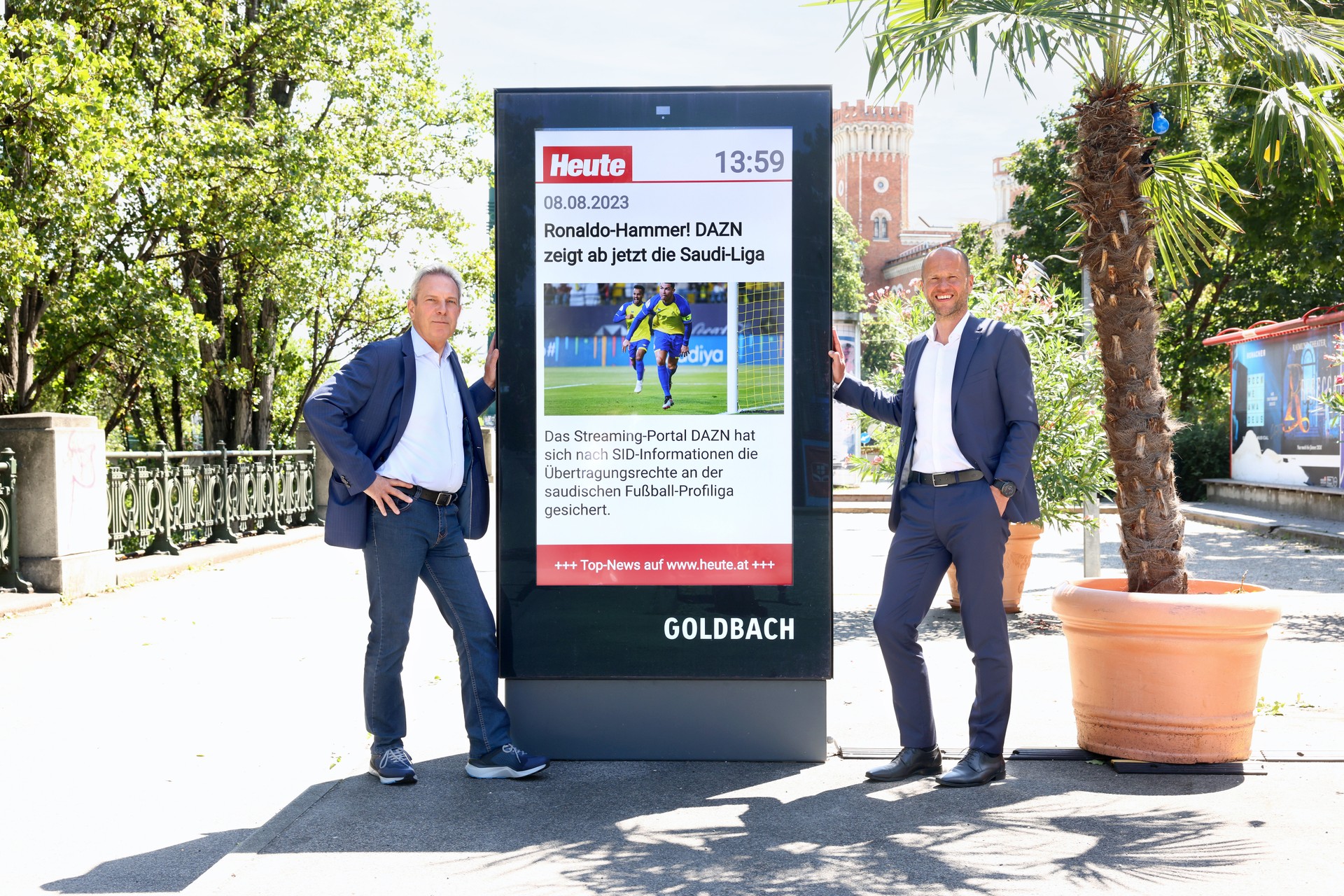 Goldbach Austria and "Heute" now also cooperate in the DOOH area
Starting August 9, Goldbach's own DOOH network will also feature current news from the "Heute " editorial team at prominent locations throughout Austria. The relevant content additionally increases interest in the screen content and thus gives advertising on the screens increased attention. Passers-by benefit from up-to-date information and entertaining waiting times, advertisers from increased awareness.
The cooperation currently covers 47 locations with 60 screens throughout Austria - these are steles in portrait format, LED boards in landscape format and display screens.
The Heute content is fed directly from the editorial office to the Goldbach Austria DOOH screens via a specially connected editorial system and is selected, created and adapted by editors especially for the DOOH medium. The focus will be on news from the lifestyle, business and sports departments. Every 30 seconds, 10-second "Today" clips featuring the six latest news stories will be presented on the screens.
"We are pleased to extend our longstanding successful cooperation with Goldbach Austria and to present breaking news from the "Heute" editorial teamat prominent locations throughout Austria starting August 9. This expansion increases our reach and presence away from print, online and mobile and strengthens our position as a leading news source," said Managing Director Wolfgang Jansky.
Alexander Leitner, Managing Director and as CCO at Goldbach Austria responsible for all sales agendas, adds: "We are very pleased that we can now also work together with our long-standing partner in the online and mobile sector in digital out-of-home advertising. The aim is to make good use of our ever-growing DOOH inventory by now being able to provide relevant content - from the latest news to weather information - at our sites in addition to advertising campaigns. Advertisers benefit from content integration by getting even more exposure for their ad campaigns as well."