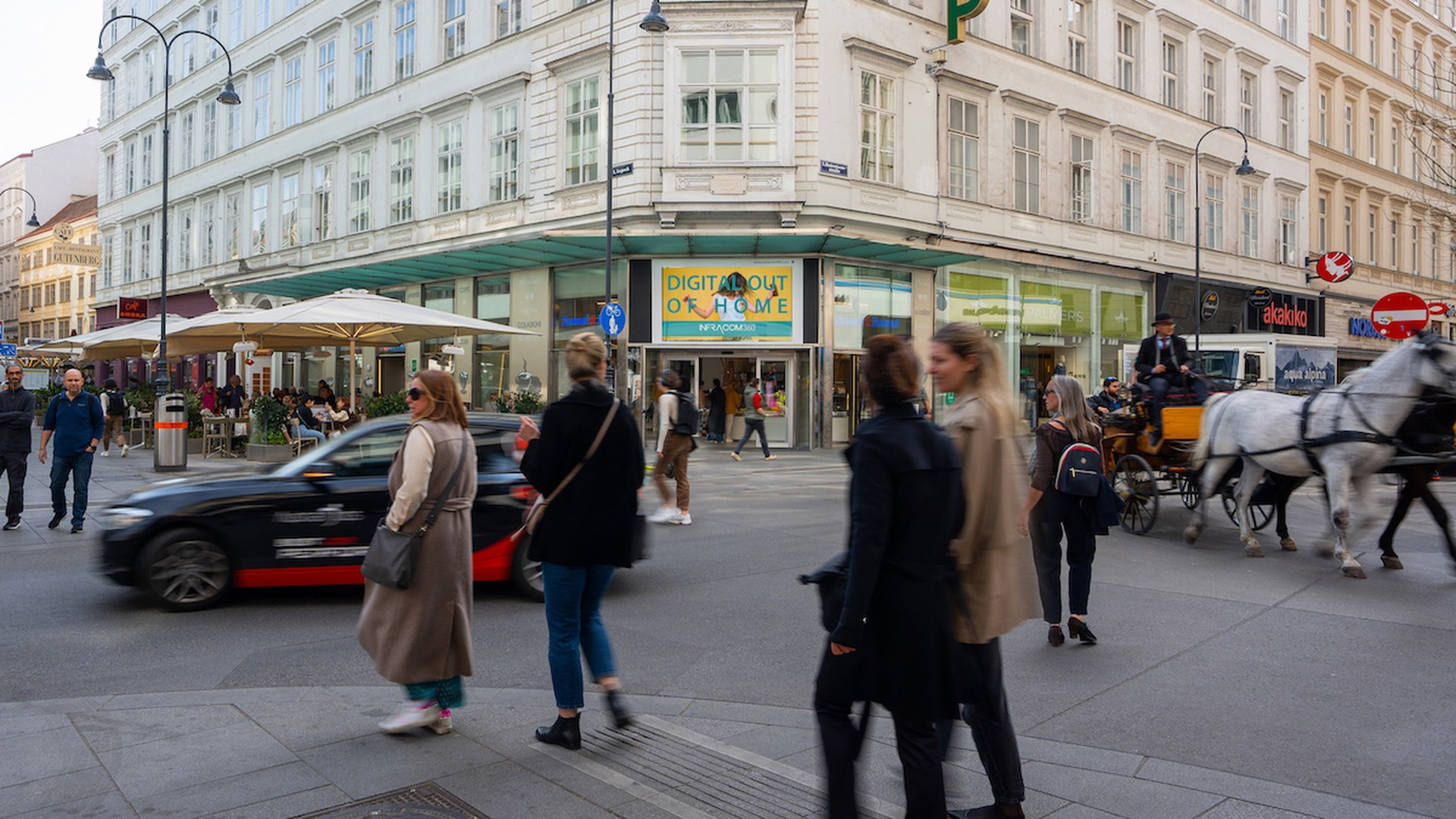 Advertise programmatically - in the city's most prominent shop windows
The programmatic DOOH network of Goldbach Austria is pleased about growth. As of now, Infracom360's window screens in the city's shopping streets are also connected to the real-time outdoor advertising solutions. Infracom relies on the expertise and technical leadership in programmatic marketing of its screens from screen marketer Goldbach Austria. The screens are located in premium locations such as Lugeck, Innere Mariahilferstraße, Porzellangasse, Praterstraße, Spittelberg and several more. The network will continue to be expanded rapidly.
"Integrating our high-quality digital advertising spaces into modern programmatic DOOH environments has been an important concern for us right from the start. With Golbach Austria, we have on the one hand a profound partner at our side for this integration and on the other hand we also appreciate the large network of Goldbach Austria as a basis for successful programmatic DOOH campaigns. With our steadily growing network of premium digital advertising spaces and the flexible programmatic play via Programmatic DOOH, together we create even more attention-grabbing contact points for attractive advertising messages," Andreas Stolar, Managing Director of Infracom Interactive, a company of the Infracom360 Group.
"We are very pleased that our programmatic DOOH network has grown a bit further and that we are able to market infracom360's high-quality advertising spaces in the urban space. Programmatic Out-of-Home Advertising is the contemporary form of advertising to enable data-based real-time campaigns in the public space with video ads. The fully automated and individualized use of advertising space offers maximum flexibility and can adapt campaigns to the real environment, which increases the attention of the target group," Christopher Miesbauer, Head of Digital out-of-Home Sales at Goldbach Austria.
Goldbach Austria's programmatic out-of-home network has grown continuously recently. Only recently, the company was able to announce the inventories of additional portfolio partners such as View Elevator, monitorwerbung, Österreichische Post and MediaMärkte. In total, the range of digital out-of-home advertising spaces, which can be programmatically controlled, currently comprises exactly 7,916 screens at 762 locations throughout Austria.
A total of up to 2.714 million advertising media contacts per week can be achieved via Infracom Interactive's screens. This gives window shopping a whole new meaning. The portrait and landscape format screens with a surface area of up to 5.25 m2 are integrated into the city channel of Goldbach Austria.
In addition to the classic targeting options, such as location and time, the campaign efficiency can be further increased with first party, second party or third party data. The 10-second spots are broadcast in a 600-second loop.
With its locations, CITY CHANNEL is part of public life and offers the perfect opportunity to meet the advertising audience in an urban and lively atmosphere. Especially pedestrians are addressed by the advertising, because placed in the heart of the cities, the screens are omnipresent in everyday life - central and bright with eye-catching LED large surfaces and 75 inch screens. Infracom's DOOH advertising spaces are largely characterized by a very high share of voice and thus bring programmatic advertising messages particularly strongly into the focus of the advertising audience in the hustle and bustle of the city.
The majority of the Goldbach Austria DOOH network is now programmatically connected and thus offers maximum flexibility for agencies and advertising customers. The screens are located throughout Austria in urban centers as well as rural areas. The network reaches 64.6% of all Austrians between the ages of 14 and 69. Intelligent targeting options or synchronization options, for example with mobile advertising, increase relevance and efficiency.