"Welcome to the SBB craftsmen and women!"
The Commercial Publishing team of 20 Minuten supported Farner Consulting in partnership with the conception and implementation of the SBB Handwerk Challenge. The employer branding campaign was designed to focus on SBB as Switzerland's largest craft company.
The campaign
Medium: 20 Minutes Online
Advertising format: Web series in reality format
Client: SBB
Industry: Transportation company
Target group: Tradesmen and women
Campaign Objective: Employer branding
Time period: Summer 2021
Initial situation
As the largest transport company in Switzerland, SBB employs a large number of skilled craftsmen such as track builders, network electricians, electricians and many more. But the craftsmen are usually not even aware that these jobs exist at SBB. With an employer branding campaign for the German-speaking part of Switzerland, the focus was to be placed on the diverse trades and professions and SBB was to be positioned as an attractive employer.
Implementation
Because craftspeople prefer to demonstrate their talents rather than read about them or talk about them, Switzerland's first Craft Challenge was launched, in which craft professionals could prove themselves against each other in various challenges. The idea was developed by Farner Consulting together with SBB and conceived and implemented in partnership with 20 Minuten's Commercial Publishing.
The campaign video
The call for competition
The call for participation in the challenge was made by means of a trailer, a branded content article and a granular social media campaign over 20 minutes, the campaign's media partner.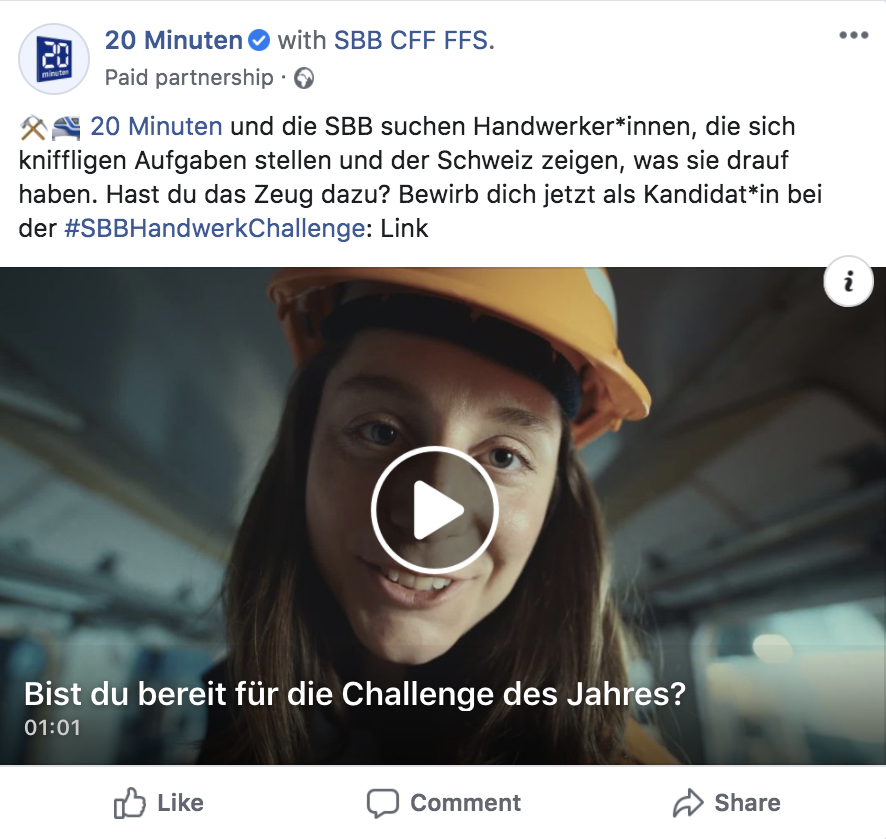 The Challenges
The twelve finalists selected after a selection round competed in a reality format in various challenges and occupational fields - accompanied by a film team, a moderator and SBB experts. They proved themselves in tasks such as maneuvering heavy machines with millimeter precision, welding in various positions or vehicle checks and maintenance under time pressure.
The best and most impressive moments of the challenges were published in a six-part web series on 20 Minuten and SBB.ch. The videos were accompanied by a CTA and a link to the jobs and careers page of the SBB.
The six challenge videos:
Adedicated channel was launched for the campaign on 20 Minuten Online. The challenge was also accompanied by parallel communication on 20 Minuten's social media channels. In addition to thematically appropriate community management, the six Challenge episodes were promoted on Facebook and Instagram with 15-second teasers.
Result
The reality format has met with great interest among the target group, as Marisa Columberg from SBB's HR Marketing also confirms: "More than 200 candidates registered, around a third of them women. Our expectations were thus exceeded by far."
Other key facts:
Even the call for the Craft Challenge met with great interest. Around 300,000 page views were registered on the 20 Minuten channels.

The six challenges achieved an average of 43,000 hits per story over the three days and recorded encouraging figures for dwell time and clicks on the CTA.

Around 37 million viewable teaser impressions, 305,000 clicks on story teasers, 1,200 shares on social channels

Following the employer branding campaign, SBB also received more than 800 applications for open positions and 200 registrations for the talent pool for skilled trades.
In addition to this performance, the video for the challenge call was awarded an Edi, the official prize for Swiss commissioned films, and received silver in the Corporate Communication, Brand Image category.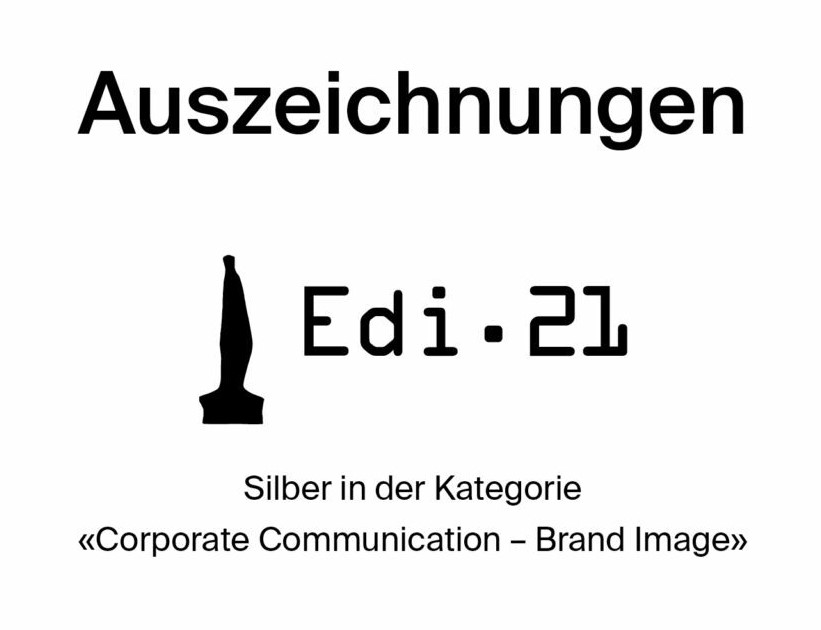 The jury's verdict: "Entertainingly told, this film always remains entertaining. Snappy, human and very vif moderated. The filmic realization convinces with clean craftsmanship, fitting to the brand and the story.
Credits
Responsible at SBB: Corinne Kuhn, Marisa Columberg, Philippe Hasler, Barbara Rheder, Oliver Perren, Nicole Kammerer, Erika Ingold
Responsible at Commercial Publishing, 20 Minuten Advertising: Severin Schenk (Producer), Benjamin Quirico (Text)
Responsible at Farner: Philipp Skrabal (overall responsibility & concept), Jill-Nadine Reuvener (consulting), Jonas Brändli (consulting), Ennio Cadau (copywriter), Martin Fuchs (copywriter), Bruce Roberts (creative director), Mathias Kröbl (art director), Flavio Dal Din (digital), Nicolas Glauser (digital)
Responsible at atem collective: Mirjam Fröhlich, Lukas Fröhlich (direction), Lukas Fröhlich, Sebastian Klinger (DOP), Jonathan C. Meier (music), Unsere Farben (colorist).
May we also assist you with your next campaign or content design?
Learn more about the advertising opportunities in the media world of 20 Minuten. The 20 Minuten Sales Team([email protected]) will be happy to support you.