Radio: Stable Reach in a Fragmented Market
The independent industry organization Mediapulse again published Swiss radio usage figures at the beginning of January 2022. According to these figures, linear radio reached 77 percent of the population aged 15 and over living in Switzerland on an average day in the second half of the year.
Although the medium thus recorded a decline in reach of two percentage points compared to the previous year, the figures are nevertheless encouraging. In view of the highly competitive market with new digital offerings being launched all the time, radio reach and listening time per person are still very stable.
Headphone use: Gift performance on top for advertisers
Unlike traditional radio consumption, radio usage via headphones was not taken into account in currency research for a long time for technical reasons. Based on a supplementary survey study, Mediapulse has now been able to quantify this measurement gap.
Comparison of radio usage* with and without consideration of headphone usage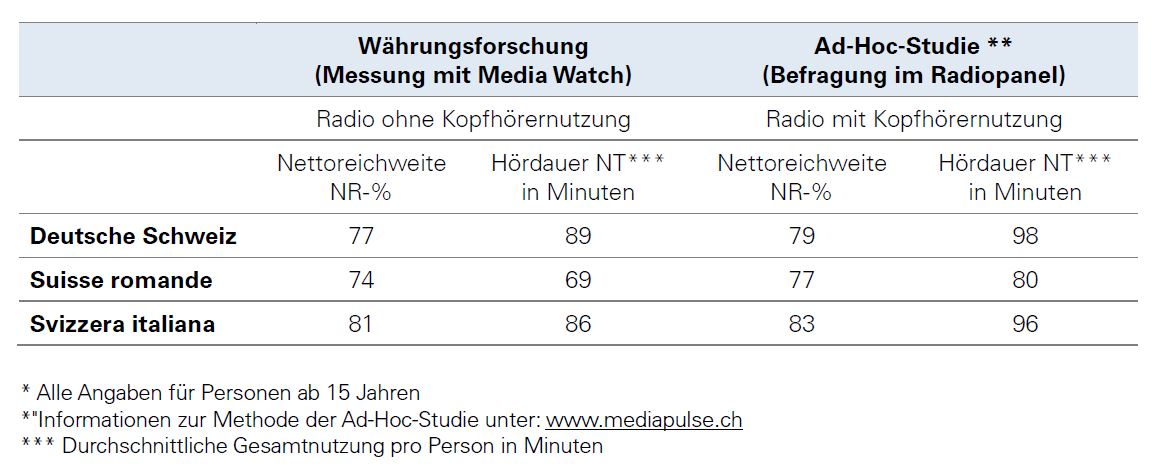 If headphone use is taken into account, radio reach increases by 2 to 3 percentage points, depending on the language region. At the same time, daily listening time increases by about 10 minutes nationwide.
What does this mean for advertisers? The additional headphone measurement provides a more authentic picture of radio usage, namely a recently quantified on-top performance of 3% in German-speaking Switzerland and 2% in French-speaking Switzerland - a factor that cannot be shown in planning tools but should definitely be taken into account for media planning in the future.
Ralf Brachat, Managing Director of radio broker Swiss Radioworld, comments: "The current radio usage figures are pleasing and make us confident. The figures show: Listeners remain loyal to their radio stations. Thanks to the additional data on headphone usage, advertisers can also enjoy a free 2 to 3% media performance!
About the data collection
As an independent industry organization, Mediapulse is responsible for collecting data on the use of radio and TV programs and online offerings in Switzerland. This data is regarded as official currency and is used by broadcasters and program makers, the advertising industry, as well as public authorities and research.
Are you interested in radio advertising or may we assist you with your next radio campaign?